THE SECOND ISSUE OF FIHRM-AP - Let the Objects Tell Their Stories: Observations from the October 6 Museum Project
Auther profile -Patporn (Aor) Phoothong
Patporn (Aor) Phoothong is a researcher focusing on peace education via peace museum and archives. Her latest research is a feasibility study for the establishment of a peace museum connected to the deep south of Thailand. She has also co-founded an initiative to establish 6 October 1976 Massacre Museum and the Initiative of Southern Museum and Archives. Her focus has been on using museums and archives as a tool for conflict transformation and peacebuilding. Aor started working on museum and archives for peace and justice since 2011 by conducting research on Towards Peace and Reconciliation: Case Studies of Peace Museums in Japan and the Philippines under the Asian Public Intellectual, Nippon Foundation's Fellowship Program.
October 6 Museum Project
The October 6 Museum Project was founded in July 2019 by a group of four people who include an editor for a progressive publishing house, a cinema photographer and director, an architect, and a researcher. This museum project aims to create a socio-political space where people from various backgrounds can communicate about Thailand's past and current political violence. It anticipates that information and evidence materials will be shared with audiences and Thai society through exhibitions, seminars, and workshops, leading to the raising of questions, criticism and finally, confrontation with the culture of impunity.
---
Thailand is a country full of rumours; facts are difficult to obtain in Thailand, rumours are often close to the truth and allow people to imagine what happened. When I have an opportunity to participate in a museum project that aims to communicate past political violence, I think how the exhibition can present the facts to create a dialogue with the public so that they can question, criticize, and ultimately discover what took place.
On October 6, 1976, state forces massacred scores of students and civilians at Thammasat University who were peacefully protesting the return of a former dictator to Thailand. According to official figures, 46 people were killed, 167 were injured, and over 3,000 students were arrested. Later, in 1978, an Amnesty Bill was passed, resulting in the release of all those involved, particularly the perpetrators: police officers, Border Patrol Police, paramilitary and ultra-right-wing groups. In July 2019, 43 years after the massacre, we started the October 6 Museum Project to confront the culture of impunity, creating a socio-political learning space with objects and resources related to both past and current political violence. The failure of justice as well as the deep-rooted culture of impunity in Thailand can be confronted through communication, whether through exhibitions, seminars, films, or other forms that encourage the public to question, speak and criticize. This is what our museum project aims to achieve.
It took me more than 20 years to figure out why we weren't allowed to talk about or investigate this incident further. Thailand has long been governed by a military regime that prioritizes national security. The Thai state controls its citizens' memories via a strong culture of impunity, coinciding with judicial administrations failures. Past political violence is regarded as sensitive or taboo, with some believing that to move forward, we must forget the past. All of this challenges the memorialization and communication of the past.
However, the most recent coup in 2014 changed the way most Thai people perceived the military. Thais, particularly from the younger generation, began talking about and questioning past events of political violence and state accountability, with the 6 October 1976 massacre being one such topic that is being discussed publicly.
Our first exhibition "Prajak / Payan" ("Eyewitnesses") was held on October 5-6, 2019. There were only three materials to exhibit: jeans taken from the dead body of a male student who was shot dead on October 6, 1976, a loudspeaker with bullet holes in it, and a red gate that on September 24, 1976, two bodies were hung. We simply presented the materials with a brief description of them, as they are real, and as they are witnesses to violence. Once in the exhibition, these three materials had a direct dialogue with the audience, they presented the facts and let the facts to speak for themselves.
While standing in the exhibition, watching the crowds walk around the exhibition area, I remember thinking to myself, "why have so many people come to see these three materials, because they haven't seen them before? Because they want to know the truth? Because they want to ensure that the 6th of October, 1976, existed? Or perhaps they wanted to meet us and other people who share our thoughts and questions?"
Our second exhibition, "Kwean" ("Hang"), ran from October 1 to 10, 2020, and this time we used Augmented Reality-AR technology to communicate with visitors. We focused on the morning of October 6, 1976, when at least five people were hung in the trees surrounding Sanam Luang, the ceremonial royal field. Our exhibition was on the site of the massacre, and audiences were able to see the bodies that were hung or shot dead based on photos from that day, thanks to AR technology.
As the Thai state tries to make its citizens forget what they have done and get away with murder, one of the simple ways to confront them is to bring back what they did and present it to the public, with evidence and objects from the incident. Our exhibition being on the site of the massacre directly pointed out who were the perpetrators, the victims, the scall of the violence, and where the state crime took place. The exhibition's audiences, are witnesses to the past's violence.
What I learnt was that the audience, particularly teenagers, have a very good understanding of the 6 October 1976 Massacre, which they obtained from the Documentation of Oct 6, an online archive, the internet, and publications. They came to the exhibition to learn more, to have a dialogue with staff and among themselves. I also learnt that although the Thai socio-political context plays an important role in controlling people's memories and freedom of expression, the current socio-political context drives people to seek the truth. And it is in this way that I see museums advancing and promoting a culture of peace and preventing future atrocities.
The October 6 Museum Project is still a work in progress; we have a long way to go before we have a physical museum. However, along the way, the project can play a role similar to that of a museum, such as collecting further objects, organizing exhibitions, workshops, and seminars, for example. And I believe we will not stop 1) asking the questions: what we know and what we don't know, where are the materials, evidence, and information, who was involved and who are the stakeholders? 2) gathering information, testimony, memories, and materials from different groups of people: perpetrators, victims, bystanders, and others 3) allowing information, testimony, memories, and materials to interact with audiences; and 4) establishing and strengthening a museum and archive culture for justice.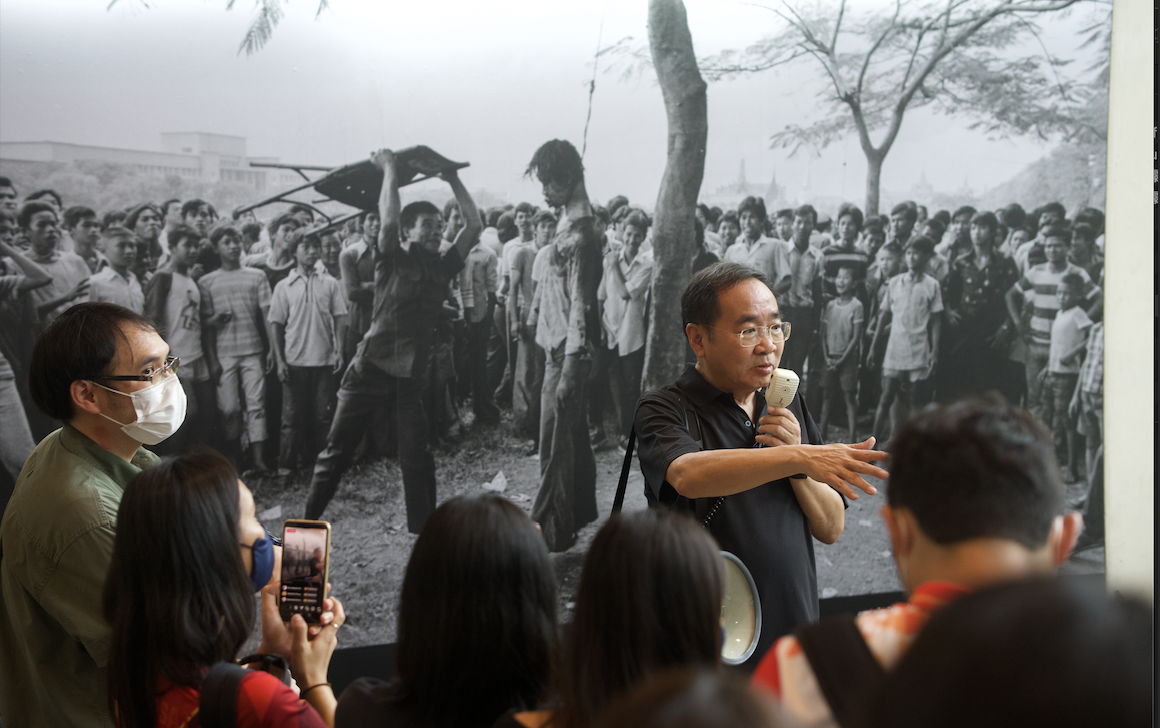 5. This is the iconic photograph of the 6 October Massacre; no one in the photograph has yet been identified. The photo was hung on the wall only 20 meters away from where it was taken.(Photo credit:Patporn (Aor) Phoothong)