Exhibition "Stand for Democracy in Myanmar"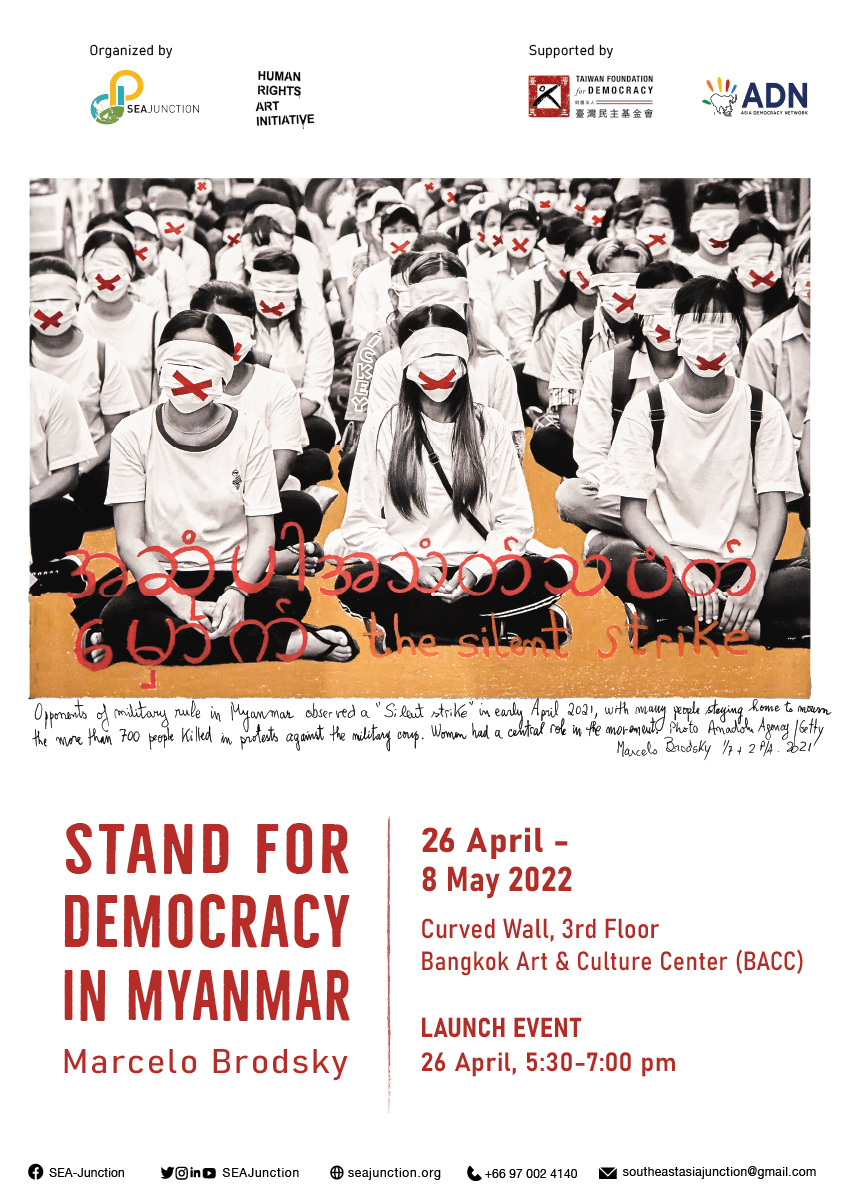 Exhibition Poster
Since 1 February 2021, Myanmar has been in turmoil as the Myanmar Army, known as the Tatmadaw, detained State Counselor Aung San Suu Kyi and President Win Myint following a general election which Suu Kyi's NLD party won by a landslide. The coup d'état led by General Min Aung Hlaing brought an end to a decade of semi-democratic rule and returned full power to the military, a state of emergency and gross human rights abuses. Courageously, the population has been resisting and demanding the release of the imprisoned leaders, as well as a booming number of prisoners and the restoration of democratic rule. A massive Civil Disobedience Movement (CDM) has emerged and hundreds of thousands continue to take to the streets in spite of the military's use of lethal force against protesters. Amidst the failure of the international community to take action, atrocities are being committed on an increasing scale, with the opposition National Unity Government (NUG) in exile resorting to form the People Defense Force and justify armed resistance. As of 15 March 2022, 1672 people are confirmed killed by the junta coup and a total of 9625 people are currently under detention. In total, 84 people are sentenced to death, in person and absentia, including two children.
In the midst of global worries, it is more crucial than ever to keep Myanmar on the public agenda. In solidarity with the democratic movement in Myanmar, SEA Junction and Human Rights Art Initiative (HuRAI), with the support of Taiwan Foundation for Democracy (TFD) and Asia Democracy Network (ADN), are therefore organizing the exhibition "Stand for Democracy in Myanmar" on the 3rd floor of Bangkok Art and Culture Center (BACC) from 26 April to 8 May 2022. The thirteen artworks are produced by Marcelo Brodsky, an Argentine artist who advocates visual narratives through photography, installations, monuments, and work that combines text and images. Images of the demonstrations against the coup during the Myanmar Spring triggered him to create work in solidarity with the protesters, creating a visual experience for larger groups to engage—aestheticising the snapshots from the demonstrations, leaving resulting effects for mobilization. He activates personal and collective memory, communicating a message of resistance hoping to connect people across time and space, ending up working at the crossroads between visual art, poetry, and human rights activism.
Stand for Democracy in Myanmar leverages visual art to raise public awareness of and to express solidarity with the cause of the civil movement in Myanmar and their struggle for freedom, democracy and human rights. The exhibition at the BACC is part of a larger program of art shows and events at art institutions and museums around the globe which mobilize visual artists in support of the CDM and the democratically mandated NUG. Brodsky's artworks have been exposed at the Tokyo Institute of Photography, Kunsthall 3,14 (Bergen, Norway) and most recently at Photobastei (Zurich, Switzerland).