THE FIRST ISSUE OF FIHRM-AP - How Museums Address Contemporary Human Rights Issues: From Co-learning to Advocacy A Case Study of the Ayo! Ayo! Tomorrow Must Be Better Exhibition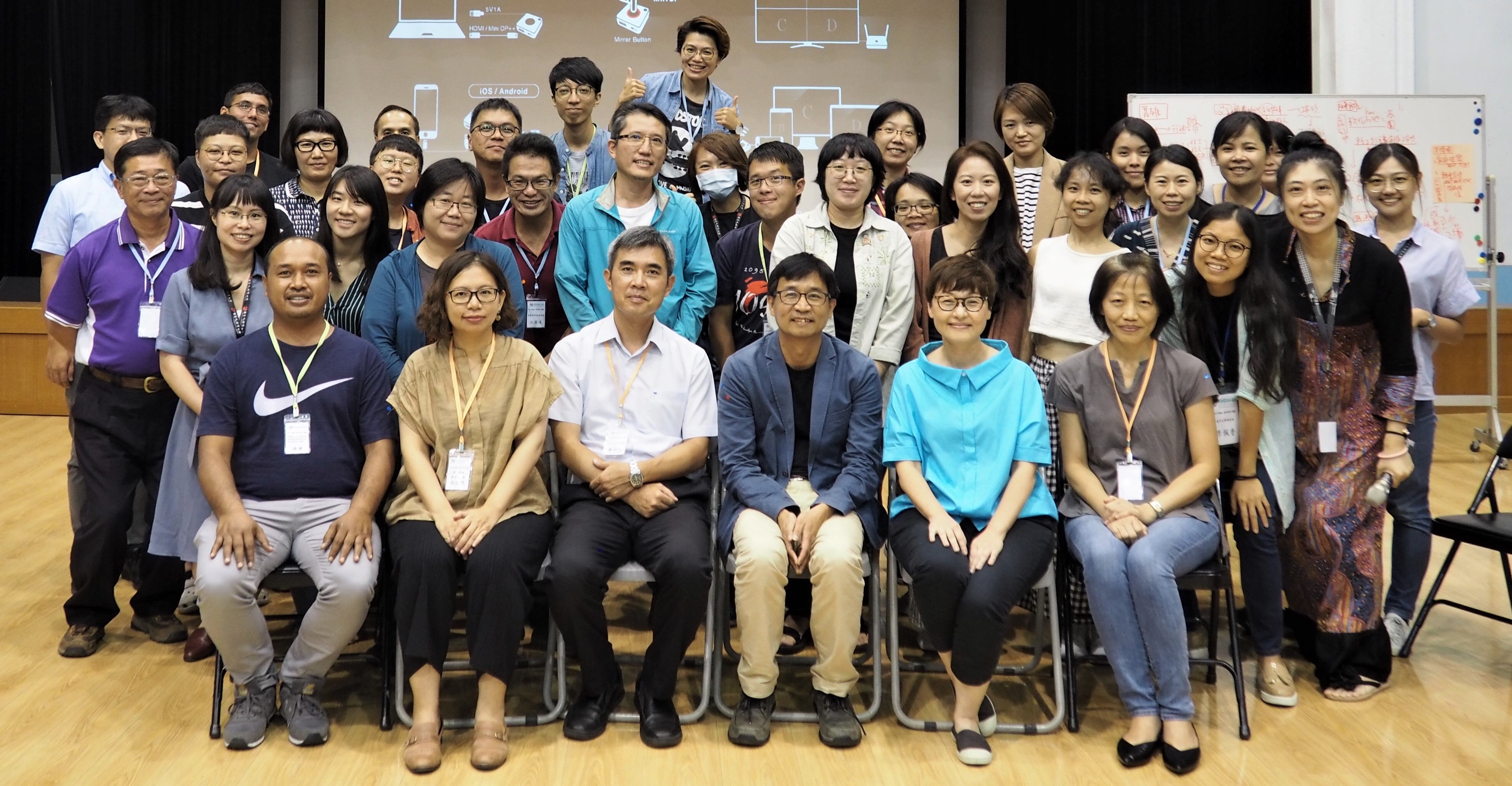 A group photo of members of the 2020 Migration and Human Rights Co-learning Workshop (Photo credit: NHRM )
Author profile : Chang,Wen-Hsin
Chang, Wen Hsin is currently a staff member of the National Human Rights Museum of Taiwan and FIHRM-AP Secretariat. From 2020 to 2021, She organized the Migration and Human Rights Co-learning Workshop, the Migration and Human Rights Online Forum and the International Migration and Human Rights Forum and Workshop.
About the National Human Rights Museum of Taiwan
The National Human Rights Museum of Taiwan is the first museum in Asia which is built on a site of negative heritage with a mission to demonstrate how the past authoritarian regime perpetrated human rights abuses. The museum operates two sites of negative heritage sites—the Jing-Mei White Terror Memorial Park and the Green Island White Terror Memorial Park. Both sides documented the lives and historical memories of many political prisoners of the White Terror of Taiwan and now have been transformed into memorial landmarks bearing witness to Taiwan society's fight for human rights.
---
In recent years, museum scholars and practitioners have been debating the core values and ethics of museums and revisiting on the social responsibilities and roles of museums in the process. The result is museum activism which asserts that human rights and social issues are no longer the sole domain for certain museums of specific themes. Museum neutrality is a myth that should be debunked and museums should be devoted actors in social engagement, putting its political and public influence to good use.
In 2019, on the 25th ICOM General Conference held in Kyoto, David Fleming, the founding president of the Federation of International Human Rights Museums announced the establishment of the Federation of International Human Rights Museums- Asia Pacific (FIHRM-AP) at the National Human Rights Museum of Taiwan (NHRM). FIHRM-AP argues that museums should no longer mind their own business in the face of difficult issues, usually contested and sensitive, such as contemporary human rights, environmental problems and climate change. As these urgent issues involve social justice, people's welfare, and sustainable development, museums are encouraged to leverage empowerment, collaboration, engagement and partnership to crack open the circle of traditional elites and authority and proactively engage with civil society in conversation and collaboration.
Building a Co-learning Community for Migrant Rights, Formulating an Alliance Action Plan
In 2020, in response to the theme of the International Museum Day, "Museums for Equality:Diversity and Inclusion," FIHRM-AP invited members of 14 private and public museums and 15 NGOs that have been advocating for the rights of transnational migrants in Taiwan. A co-learning group was thus formed to explore new possibilities of collaboration to better improve migrant workers' rights.
Transnational labor migration and the resulting human rights issues are not unique to one single country. They are the outcome of the expansion of multinational corporations and capital accumulation in the context of global capitalism. Since the 1980s, Taiwan has competed for a semi-peripheral position in the globalized capital market and joined the ranks of the "world factories." Since the 1990s, as the country faced an increase in minimum wage and a shortage of labor resulting from an aging population, the government thus legalized the introduction of migrant workers from countries like Thailand, the Philippines, Vietnam, and Indonesia. Over the years, Taiwan society has benefited from the fruits of the cheap labor offered by migrant workers, but has failed to ensure fair employment, social, political and cultural treatment and protect their basic rights. Control measures over the labor market like the guest worker program has ensured that capitalists and brokers can reap the maximum economic benefits from migrant workers. Regulations even deprive migrant workers of the right to change jobs, further cementing the power imbalance of employment relations and exacerbating the multiple oppression based on race, social class and gender. Structural and policy problems refuse to budge despite years of advocacy by NGOs.
In light of the human rights issues and political conundrum of transnational migration, FIHRM-AP organized a Co-learning Workshop. A co-learning community was built through monthly gatherings which facilitated the dialogue and connection between museums and NGOs. Through field trips to museums, shelters and the tragic site where the collapse of Nanfangao Bridge killed migrant workers, professionals from different organizations shared their practices with regard to human rights issues and actual experiences while learning from each other. Trust and public–private partnerships were gradually fostered between museums and NGOs in the process. The bond of the co-learning community was cultivated by an organic and dynamic process: back-and-forth communication for consensus and common goal alignment; differentiated action strategies from cultural approaches—exhibitions, educational programs and film screenings—to social movements—marches, protests, and so on. Members of this community searched for applicable action plans that help to create a museum-based space for public dialogues regarding social communication and policy advocacy.
A Joint Decision to Initiate Action Planning and Curate an Exhibition for Social Communication
To further the consensus and objectives of the co-learning workshop, NHRM then worked together with 15 NGOs in 2021 to curate an exhibition. NGOs were at the center of the curatorial model and controlled the interpretation and discursive power in the process, replacing the traditional curatorial model in which the curator took the lead and field research preceded the process. Museum staff of the project assumed the roles of project managers and coordinators while a curatorial team was brought in to help with exhibition design and production. Museum staff and the curatorial team functioned as curatorial facilitators. They helped NGOs to identify exhibition vision and action objectives by compiling a list of more than 100 key words related to migrant rights. The list was used for the discussions at curatorial meetings and workshop sessions and enabled the consensus to grow into exhibition structure and content. They were also responsible for supporting tasks like supplementing research and writing object labels. Exhibits were borrowed from NGOs, including protest props and fruits of human rights efforts, such as the giant puppets used for the migrant worker march, the mementos of the killed migrant fishermen, awarded works of migrant worker literature, and woodblock prints made by migrant workers.
Eventually, the involved NGOs decided to divide the exhibition into four sections: "Gaze—the Rediscovery of Living Space," "Worksite—Hidden Risks Outsourced," "Practice—Equality and Coexistence for Tomorrow," and "Reading Room." These sections guided the visitors to reflect on how far it is between the general public and migrant workers. The audience first saw the common daily commodities and a product catalog of the things made by migrant workers before they walked into their worksites where they physically experienced the cramped and confined space, the noise and the uneasiness of being watched all the time. After experiencing what migrant workers went through, the visitors were exposed to the truthful accounts and testimonies of migrant workers. This was followed by the introduction of the actions taken by NGOs for migrant rights and a collaborated Chronicle of Migrant Rights History. Here the audience got an overview of the migrant rights movement history, a course of more than thirty years of activism. The exhibition aimed to raise awareness of human rights in the general public, expel discrimination and biases and create an opportunity for actions which drive social changes.
As the extension of social communication and NGO advocacy, the exhibition set up a mock referendum section, expressing the demands of NGOs and allowing the visitor an opportunity to vote for or against regulatory amendments related to migrant workers. A game was also designed to encourage visitors to join NGOs' efforts according to the social issues they care most about. Museums not only can serve as platforms for public dialogues with regard to public issues, but also can serve as hubs which connect museum visitors with human rights scenes.
The exhibition exposed the close work environment of domestic migrant workers who are constantly watched and deprived of privacy. The exhibition presented how NGOs support and empower migrant workers in different ways like Chinese language courses, legal aid, make-up tutorials and workshops.(Photo credit: NHRM)
Conclusion
How do we work through museums to shape policies and social changes in response to difficult and controversial contemporary issues? When working alone, museums struggle with limitations and challenges. By building collaborative partnership with NGOs, relinquishing power, sharing resources, museums would find the bar of intervening social issues and working with communities lowered. The synergy is more effective in channeling in more positive energy for social actions. By intervening with exhibition as a way to social engagement, museums can empower silenced, disadvantaged, stigmatized, and marginalized communities to be heard and seen. By opening up to citizens and NGOs and creating dialogue space for public issues, museums not only demonstrate their core values in the public sphere of a democratic society but also find synergy for greater social influence.