Memories for Justice: Dialogue with Museums and Archives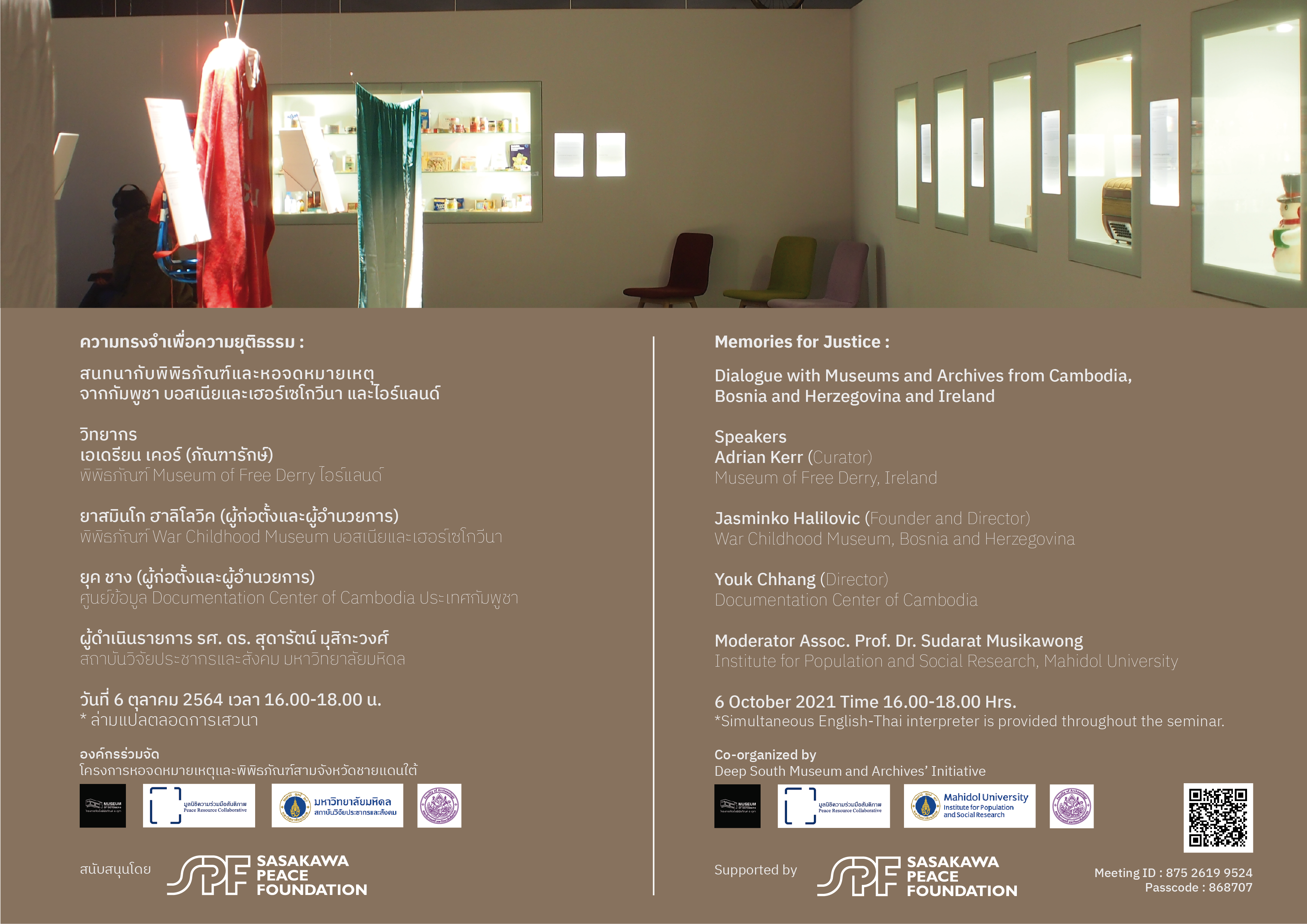 Memories for Justicee: Dialogue with Museums and Archives
Memories for Justice: Dialogue with Museums and Archives from Bosnia and Herzegovina, Cambodia, and Ireland
This seminar is part of the Deep South Museum and Archives Initiative on documentation, museums and archive work. Its objective is to introduce the concept of memories and justice while also facilitating dialogue among museum and archive professionals.
This is a two-hour seminar in which each museum has approximately 20-25 minutes to speak, followed by a discussion allowing participants to ask questions and exchange ideas. Each museum will give a presentation on 1) the history of the museum and why it was founded, the museum's vision and mission, how they started, their initial challenges and how they overcame them. 2) main activities and programs, particularly the mission on memories for justice and reconciliation 3) current challenges and strategies for overcoming them, and 4) what is the museum's current and future roles?
The seminar will be held in English with simultaneous Thai-English interpretation. This is not an academic seminar, but rather a platform where the speakers and audience can ask questions and engage in discussions.
Speakers:
1. Adrian Kerr, Curator, Museum of Free Derry, Ireland
2. Jasminko Halilovic, Founder and Director, War Childhood Museum, Bosnia and Herzegovina
3. Youk Chhang, Director, Documentation Center of Cambodia
Moderator: Assoc. Prof. Dr. Sudarat Muskikawong
Date & Time: 16.00-18.00 Hrs. 6 October 2021
Join via ZOOM meeting:
Meeting ID: 875 2619 9524
Passcode: 868707
Organized by:
The Deep South Museum and Archives' Initiative
October 6 Museum Project
Peace Resource Collaborative
Institute for Population and Social Research, Mahidol University
Faculty of Archaeology, Silpakorn University
Supported by: Sasakawa Peace Foundation