THE FIRST ISSUE OF FIHRM-AP - Human Rights, Human Values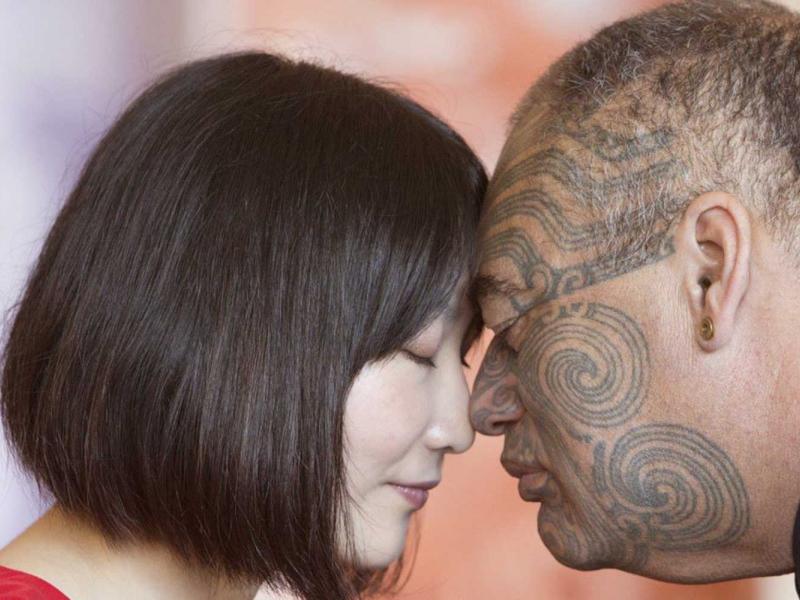 The Conference of FIHRM at Te Papa(Photo credit: FIHRM)
Author Profile - Tracy Puklowski
Tracy Puklowski is currently based in Alice Springs, Australia, where she is responsible for the development of the country's first National Aboriginal Art Gallery. Previously she was the General Manager of Creative Arts and Cultural Services in Launceston, Tasmania, which included Directorship of the Queen Victoria Museum and Gallery, Australia's largest regional cultural institution.Prior to moving to Australia, Tracy held a range of senior leadership roles in New Zealand's GLAM sector. She is a graduate of the Getty's Museum Leadership Institute.
About The National Aboriginal Art Gallery
The National Aboriginal Art Gallery in Mparntwe/Alice Springs will be an iconic destination presenting stories from the world's oldest living culture in a new space in the heart of Australia, and will provide a showcase for Aboriginal people to present and celebrate their achievements through art.The Gallery will play a pivotal role in Australia's journey of truth-telling, and is committed to ensuring majority Aboriginal governance, management and workforce. In this way, the Gallery will be a vehicle for Aboriginal people to tell their stories to the world, investing them with agency to determine how those stories are told.
---
The establishment of FIHRM-Asia Pacific in 2019 was a pivotal moment in the global recognition of the importance of human rights to museum discourse and practice. Regionally focused branches of the Federation of International Human Rights Museums serve to amplify often unheard voices, providing vital platforms for identifying and addressing regionally specific human rights issues. In this article I trace my own involvement with FIHRM and reflect on how tackling human rights issues must shift from the margins to the core, for all of us.
When the Federation of International Human Rights Museums (FIHRM) was launched in 2010 I was honoured to be invited to become an inaugural council member. It was an exciting and timely initiative; social justice issues had been coming increasingly to the fore for museums, but this was the first collective international response to human rights.
However, my conscience twinged a little. Did I have the right to claim on behalf of my then-museum, the Museum of New Zealand Te Papa Tongarewa (Te Papa), that we were a 'human rights museum'? What was a human rights museum, anyway? I hoped I hadn't unwittingly put us in the position of imposter.
After reflecting on our history and values as a museum I concluded that being a human rights museum didn't require a specific human rights mandate. Te Papa's commitment to diversity, inclusion, and a willingness to tackle challenging issues meant that we could rightfully take our place at the table.
I wrote about this in 2015 when I chaired the FIHRM conference:
"Social justice, human rights, and access in its broadest sense…are not add-ons, opt-ins, or opt-outs for Te Papa. They are at the very heart of the museum's genealogy, or whakapapa. The Museum of New Zealand Te Papa Tongarewa Act was passed in 1992 and laid a firm foundation for a museum that would do things differently… When the Board of the Museum adopted a Bicultural Policy…it resolved to require the expression of biculturalism within all areas of the museum.
Add to that the fact that Te Papa's Vision is Changing Hearts, Changing Minds, Changing Lives, and you have a museum that is hard-wired to engage with the challenging and the uncomfortable, a museum that must be prepared to take a stance if it truly hopes to create transformative experiences for its visitors, its communities, and even for its staff.
As the FIHRM website states, human rights museums must be prepared to challenge traditional museum thinking and practice. For this reason, I consider Te Papa to be a human rights museum, and I look forward to welcoming our delegates in September." [1]
It's interesting to note that I had written this based on the premise that some museums might consider human rights a non-essential area and need to be coaxed to see themselves in this light. Perhaps they needed to justify a commitment to human rights, as I had initially found myself doing in 2010.
In that same piece I also noted that the context within which museums operate was changing 'rapidly and dramatically'. At the time I was referring to the cultural and political landscape in New Zealand; I couldn't possibly have foreseen just how rapid and dramatic things would get in the years to come, for all of us. These 'things' are global, life-changing, paradigm shifts with consequences for our shared humanity; and they demand a radical response.
The 2019 ICOM project to create a new museum definition was kindled by an acknowledgement that the current definition did not "reflect and express adequately the complexities of the 21st century and the current responsibilities and commitments of museums, nor their challenges and visions for the future". [2] Many of us observed the resulting squabbles with bemusement and eventual exasperation as words and differing values tumbled into an ideological crevasse. One can only hope that the events of the past two years will serve as a catalyst for museological solidarity at Prague in 2022, when the topic will be debated again.
How could it be otherwise? Global events, museum audiences, and communities of interest aren't sitting around waiting for museums to decide whether we've defined ourselves correctly. The changes and challenges of recent years aren't just on our doorstep – they're roaming the galleries, inspecting the books, and staring us down.
Universal Declaration of Human Rights Article 27: 1

Everyone has the right freely to participate in the cultural life of the community, to enjoy the arts and to share in scientific advancement and its benefits.
We are all still in the midst of a global pandemic that has changed life as we know it, forever. Museums and galleries have done much more than simply 'pivot' in response, they have spun on a dime; navigating lockdowns, directing new energy to online learning, experiences and participation, managing spaces and crowds, and some sadly faced with the reality of having to close for good. The pandemic is democratic in that no-one is immune from its impact, yet it is also a great friend of inequity, exacerbating poverty and disadvantage.
And so it follows that the museums most likely to close permanently are the smaller ones that have always struggled for resources; the ones that hold the memories and tell the stories of small, close-knit communities, and that link people and their communities to their histories and traditions.
We are reminded then, of our responsibility to work and for communities, to preserve their memories, and to share their stories. We must continue to remove barriers to access and to co-create rather than dominate. We have been tasked with the challenge and privilege of working with communities and individuals to capture this extraordinary moment in time for the future, and to help rebuild and heal in the wake of this profound shared human experience.
The therapeutic power of art isn't a new idea, nor is the concept that museums can be safe (and necessary) places to gather in the wake of trauma, or to confront and memorialise traumatic events. But things run far deeper this time; the local has become global, and vice-versa.
Universal Declaration of Human Rights Article 3

Everyone has the right to life, liberty and security of person.
Universal Declaration of Human Rights Article 25: 1

Everyone has the right to a standard of living adequate for the health and well-being of himself and of his family, including food, clothing, housing and medical care and necessary social services, and the right to security in the event of unemployment, sickness, disability, widowhood, old age or other lack of livelihood in circumstances beyond his control.
The global climate emergency is another threat to our way of life and is a significant human rights emergency. Climate change threatens food security, housing, and life itself. Small island nations are the most physically vulnerable to the impacts of climate change, despite making a far smaller contribution to its causes than other countries. This is a very specific threat within the Asia-Pacific region.
All museums have a role to play in raising awareness about climate change and taking action, particularly as guardians of evidence within a 'post-truth' world where scientists have to defend science facts. When I was the Director of Queen Victoria Museum and Gallery (QVMAG) in Tasmania, our scientists were finding animals (insects) moving further and further south, in response to a warming environment. That evidence, coupled with our local authority's declaration of a climate emergency [3], made the decision to make climate change a central focus for the museum, an easy one.
However, it is not just about collections-based knowledge and evidence, it is about behaviours. The Horniman Museum and Gardens adopted a far-reaching climate change manifesto in early 2020 that focuses not only on working with audiences to raise awareness and change behaviours, but that also challenges the museum to look at its own habits and activities.
Museums must consider their own contributions to climate change – how do we use our resources? Are we planning sustainable buildings? Do our sponsors align with our values? Recent debate over fossil fuel companies' sponsorship of museums aren't happening in the boardroom; they are happening in public.
What about the needs of climate refugees? If you thought that was an issue for the future, you're wrong. It's happening now; in 2020 30.7 million people were displaced globally, and over 98% of them were the result of weather-related hazards. [4] Thousands of Marshall Islands residents have been relocated to parts of the US where they face a new challenge of maintaining their connections to culture and tradition.
Universal Declaration of Human Rights Article 7

All are equal before the law and are entitled without any discrimination to equal protection of the law. All are entitled to equal protection against any discrimination in violation of this Declaration and against any incitement to such discrimination.
The use of force by police against people of colour sparked global protests and the resurgence of the Black Lives Matter movement. Initially focusing on police brutality and violence, the movement broadened in scope as it gained global traction, encompassing issues relating to systemic racism and the long tail of colonialism. This in turn shone a glaring light on the history and practices of museums.
There's nothing necessarily new about interrogating aspects of museum practice; official calls for the British Museum to return the Parthenon marbles to Greece date back to the early 1980s, and Maurice Berger posed the question Are Art Museums Racist? in 1990. However, these matters have never been as swept up in the zeitgeist as they are at this moment.
Groups such as Decolonize This Place and BP or not BP actively take over museum spaces with performative interventions that call attention to sponsorship, repatriation, acquisition practices, indigenous agency, and working conditions of staff. Vice media's The Unfiltered History Tour explores the stories of 'disputed artefacts' in the British Museum. [5] Former staff of a number of cultural institutions have spoken out in recent years against workplace inequity and structural racism, including - in a horrible irony - the Canadian Museum for Human Rights.
The voices of source communities are growing louder as they demand the rightful return of their cultural treasures. In 2018 descendants from Rapa Nui travelled to the British Museum to request the return of Hoa Hakananai'a, their tupuna (ancestor). In The Unfiltered History Tour episode devoted to the colonial theft of Hoa Hakananai'a', Talita Rapu (descendant and Governor of Rapa Nui) states poignantly, "Rapa Nui have the body but you have the soul. We walk through this world without our soul, as an empty body"[6]. Many of us who have worked with indigenous collections recognise that the spirit of cultural material resides with communities, families, and descendants. But why shouldn't this be the norm rather than the exception? If the reunion of 'body and soul' is the best outcome as determined by the traditional owners, on what grounds can a museum possibly argue? If we are not willing to actively decouple ourselves from the practices of colonialism, then surely we are guilty of compounding its consequences.
UN Declaration on the Rights of Indigenous Peoples Article 3

We have the right to self-determination.

We are free to choose our political status and our economic, social and cultural development.
I find myself in the curious position of writing this article whilst living in a country (Australia) that has no Bill of Rights at a Federal level, although individual States are increasingly developing their own responses to ensuring the human rights of their citizens. Whilst the situation might be less than idea, it does place the responsibility of upholding and giving meaning to human rights back to individuals and organisations. I'm also establishing a new cultural entity, a National Aboriginal Art Gallery for Australia. It's going to be built in Alice Springs, in the Northern Territory. It is a place that is at once beautiful and confronting, distinguished by culture and art, as well as intergenerational disadvantage and trauma.
Australia's First Peoples[7] represent the oldest continuing living culture on earth, with a visual culture that is enduring yet dynamic. When Aboriginal art moved from sand and rock to board and canvas, the course of Australian art history changed irrevocably, capturing the imaginations of audiences worldwide. It provided social, economic, cultural and spiritual benefits for the artists and their communities, brought Aboriginal stories and histories to new audiences, and strengthened cultural connections. To me, the Northern Territory, my current home, is the largest living Art Gallery in the world. The artistic vibrancy is inescapable.
The Northern Territory also has the highest proportion of Aboriginal and Torres Strait Islander peoples in Australia, and nearly 45% of all Aboriginal households live below the poverty line. [8] The youth suicide rate is three times the national average.[9] Approximately 85 per cent of the Northern Territory's prison population are Indigenous people. [10]
So the question I pose myself now is not whether a Gallery such as the National Aboriginal Art Gallery (or anyplace, for that matter) should fight for human rights; it's how we will do that. This will require us to re-imagine and redesign our very ecosystems if we are to have and make meaning. For the National Aboriginal Art Gallery, that means a commitment to First Peoples' Principles of ensuring majority Aboriginal governance, management, and workforce. It means committing to voice, agency, and shared authority, and to the truth-telling that Australia needs if it is to start healing from the past and heading towards national reconciliation. The usual gallery/museum paradigm with some bits tacked on won't get close to achieving any of this.
We are inexorably connected to the global events and human rights challenges outlined in this paper, regardless of size, location, or purpose. The majority of cultural institutions have been audience-focused for many years, and placing the audience at the heart of our thinking has reaped huge benefits – better engagement, greater relevance, and much more. But it's time for another step forward now. We must learn to be humanity-focused. And that starts with accepting that human rights and the dignity of all people, is the responsibility of us all.
Human Rights, Human Values